Welcome To Space Move Kenya
Reliable Moving Company in Nairobi Kenya
House and Office Movers in Nairobi Kenya You Can Trust
Space Move Kenya is a professional moving company in Nairobi Kenya offering quality moving services in house moving, office moving, residential moving, international moving, packaging and crating & warehousing and storage.
We focus on the best customer satisfaction, timely and quality work, providing the required consultation when need be. We exist for our customers, that's why they are always the first priority. Let us make the move you are thinking about, the best move you'll make.
We focus on the best customer satisfaction, timely and quality work, providing the required consultation when need be. We exist for our customers, that's why they are always the first priority. Let us make the move you are thinking about, the best move you'll make.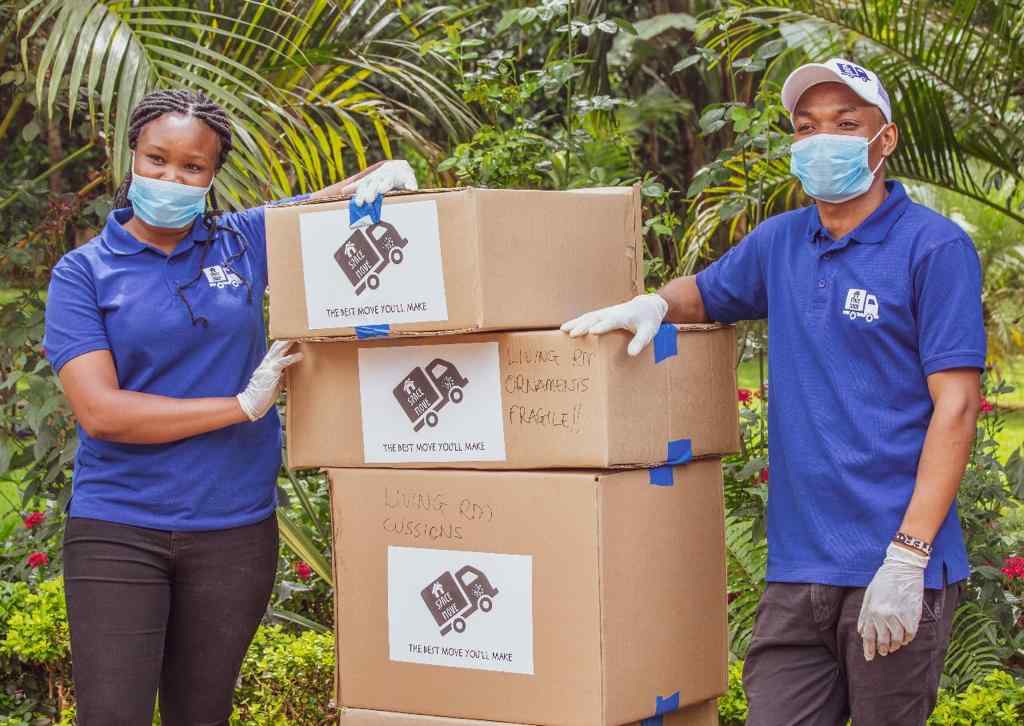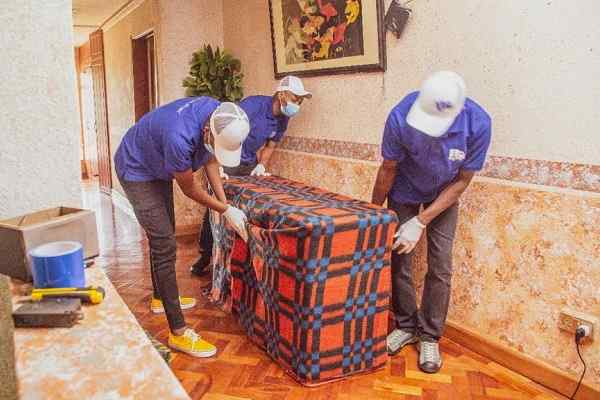 We offer professional home moving services of unrivalled quality, all expertly designed to provide you with a seamless moving journey.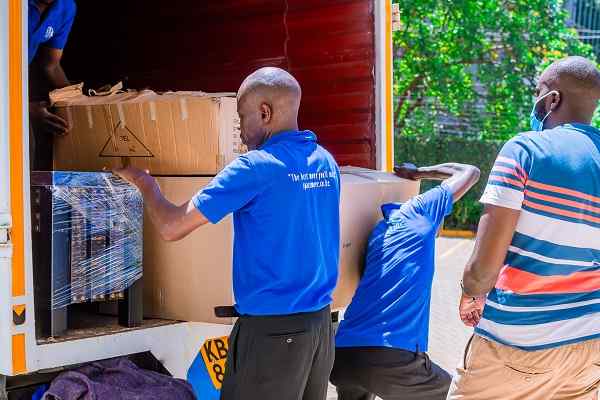 Our office move action plans are carefully drawn up to minimize the loss of productivity for your business. We are experts in office moving.
With our secure warehouse available, whenever you need temporary strage, we are able to offer a professional storage service.
Moving to another country can be a daunting experience. But we think it should be one of the most exciting moments.
We offer prrofessional move in or move out cleaning and pest control services to our clients at affordable cost.
We offer full packing and Crating solutions, so whatever your requirements are we will be able to help.
Space Move Kenya Team At Work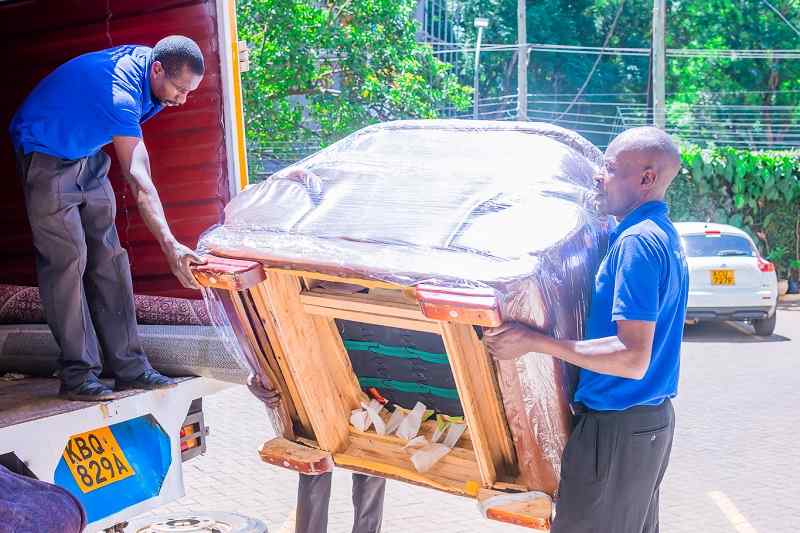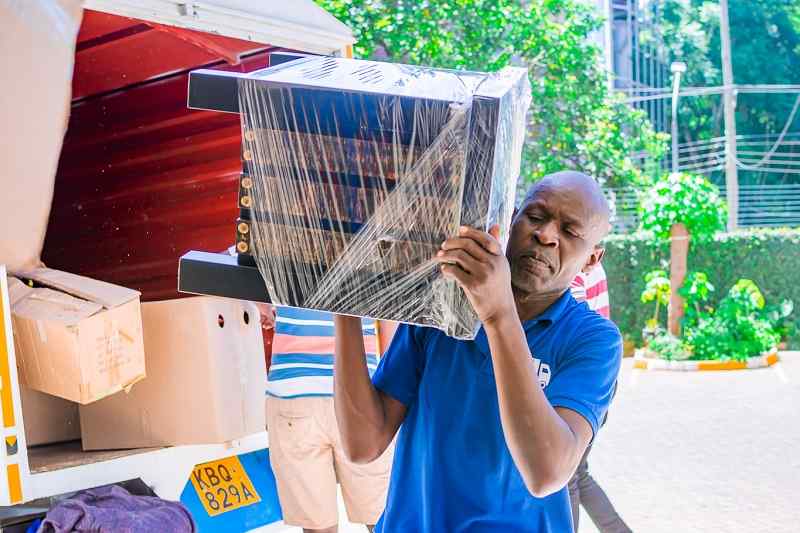 House Moving Company in Nairobi
When it comes to house moving, Space Move Kenya is dedicated to providing a Personal Moving Plan that meets the needs of all of our customers. We recognize that each household move is different, and we strive to provide a variety of moving resources geared to offer a more personalized moving experience. Our Personal Moving Plan is designed with you in mind, tailor-made to fit your budget, time and your moving needs.   
At Space Move Kenya, we want to provide you with as many moving resources as we can. We want to take the stress out of the moving process, and replace it with quality service you can count on. Our Packing Options give you the opportunity and flexibility to decide how much you would like to participate with your move, and we offer a comprehensive list of packing options and services that will help you plan and prepare with ease.
Why choose a moving company in Nairobi Kenya over DIY?
oving can be quite a daunting job. However, by working with professional movers, you can significantly simplify the entire process. Some of the reasons why it is important to hire a moving company as opposed to doing it on your own include:
Professionals offer packaging materials and packing services, which ensures that all your belongings are safely loaded to a truck, shipped, and offloaded from the truck.
Hiring a professional will also save you time. Since the moving company is going to do everything for you from packing to loading to shipping to offloading, you will have time to do other things and settle in your new home.
Hiring professionals may also help you save money, this may sound unlikely, but the truth is that your lack of experience in the job can lead to damages that can cost you a lot if you choose DIY. Professionals have the necessary skills to ensure that damages that are associated with moving are minimized.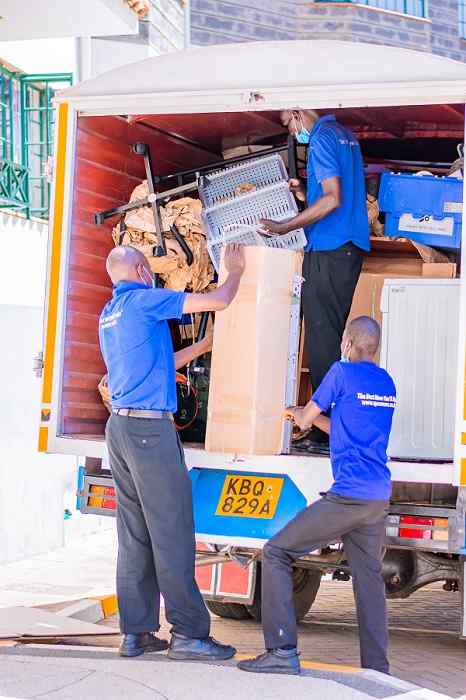 Basic Household Moving Services
Loading – Prior to loading your furniture and belongings, Space Move Kenya takes the time to make sure that each item is properly packed, listed for inventory and labeled for moving. For upholstered furniture, we use a durable, plastic Stretchwrap to guard against potential damage from dirt and scratches. For other items, we use special packing to protect against shifting. Once prepped, your personal contents are systematically loaded onto our moving trucks where they will be transported to their new location.
Transportation – Safety is a top-priority for Space Move Kenya. Our drivers are all licensed and certified with quality training, and are committed to making sure your belongings are transported in a professional way. Whether it is a local, state to state or long distance move, we have you covered.
Unloading – After delivery, we take inventory during the unloading process to ensure that each item is accounted for. With your guidance and instruction, our trained movers will carefully place all of your boxes and furniture into each room, and we will provide re-assembly services as requested.
Planning and executing the relocation of your business from one facility to another is a complicated undertaking that requires comprehensive office relocation services done by top office movers, many specialized skills and a high level of knowledge and experience. Whether moving across town, to another county or establishing an international presence, a lot goes into relocating your business. The success or failure of your move will ultimately be based upon whether you finish on time and within budget and whether business continues without interruption.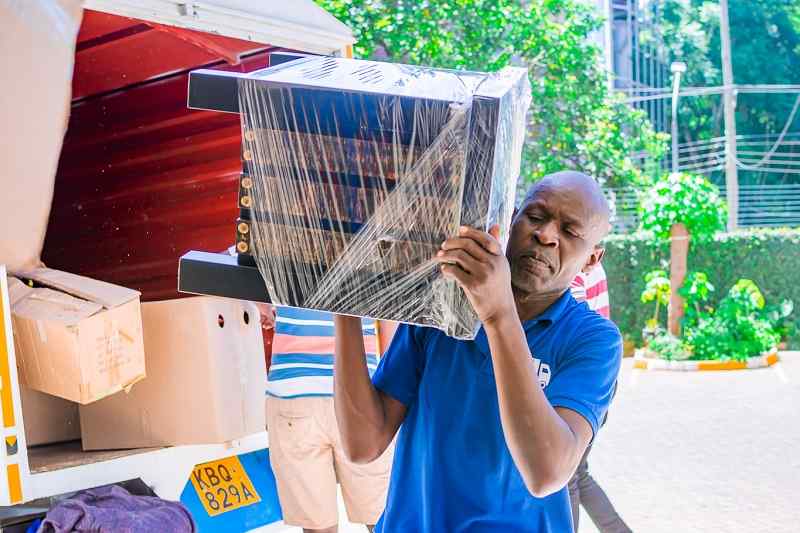 Space Move Kenya has been providing efficient, cost-effective office moving services to companies of all sizes and across all industries. Space Move Kenya has extensive experience at all types of office relocations, including company-wide office moves, the removal and installation of furniture systems and the relocation of capital equipment and sophisticated computer networks. Because you cannot afford to shut down and the physical move of your business can be full of unforeseen changes and surprises, Our extensive experience in planning and executing office moves and its investment in the latest technology and techniques is essential to minimize downtime and maintain employee productivity.
Because every company's business goals and approach to a move are different, we offer an array of relocation and storage solutions to you meet your unique, critical business needs.
House moving costs in Nairobi starts from around Ksh. 10, 000 (for very small moves or transport of specific items) and range up to Ksh. 100, 000 or more depending on the property and how much stuff you need moving, as well as how far it needs to go. Here are the main factors the will contribute to how much a moving company is going to charge you:
Size of the move.

t's a no-brainer but you can't expect to move on a budget if you're living in a 5-bedroom house and more than 1 van is required for the transportation of all household items. The bigger the move, the more expensive it gets. Take a better look at what to be careful of before and during the relocation if you want to lower the cost of moving house. If you're going to compare removals prices, always compare your quote with one for the exact same move.

Distance. The distance between the current location to the new destination is of huge importance when it comes to calculating the cost of moving house or office. It greatly affacts the price will you pay for a move significantly, especially for long-distance moves. A move to counties sorrounding Nairobi will be cheaper a compared to a client going to Mombasa. You will pay from Ksh. 35, 000 Moving cost to Mombasa from Nairobi and a half the price if moving to Kiambu with same move size.
Move out/in Cleaning.

If you're living on rent, your end of the lease agreement with the landlord probably requires you to leave the property clean before vacating it.You don't need to contact a cleaning company for the job. Most professional moving companies have expert cleaners at their disposal. Simply mention that you'll need help with a move out cleaning service and the sales agent will provide you with a quote for it. This will in turn increase the amount of money you will pay by Ksh. 5, 000 depending on the size of the house.

Extra Installation Services. If you need additional service like TV mounting and DSTV installation services. Be sure you are going to pay more. The cost of DSTV installation will be around Ksh. 1500 while TV mounting will cost you from Ksh. 2500 to Ksh. 10, 000 depending on the size and number of TV's you need mounted.
Moving Date. You'll probably not see different price lists for Fridays and the weekend on most websites of removals companies but once you share the details of your move, expect to receive a higher price under the following circumstances:


If moving at the end of the week
If moving at the end of the month
If you provide an unclear date of your move
If you make changes to the moving date a few days before the move
If you prevent the movers from arriving on the scheduled date (if you have not secured a parking lot or something else blocks the movers to access your property)
Top Professional Moving Companies in Nairobi Kenya
Space Move Kenya. Reliable Moving Company in Nairobi Kenya with affordable prices. Call +254 701 228 538 or email sales@spacemove.co.ke for a free quote today. We are a professional, reliable and friendly removals company with a vast amount of experience in the moving business. We offer affordable moving services in and around the capital Nairobi, and across the Kenya. Our highly experienced drivers are fully trained in all areas of packing and relocation, ensuring your move is carried out efficiently and with care.
Cube Movers Limited. Cube Movers is another competent moving service that offers all types of house and office move and relocation services. It deals with;
Domestic and Inter-State House Moving
Office Moving and Relocation
Courier Services (Cube Messengers)
The company is built around a philosophy of understanding customer needs and ensuring that each customer gets a good experience. Cube Movers ensures its clients do not go through pressure during their movement process since its qualified staff will ensure the job is done right.
Because Cube Movers is a business that has been in operation for long, they have an answer for just about everything. They'll be there through any hurdles whether you're dealing with an international move or just moving down the block.
The company is a reliable, trustworthy, and competent service provider, with its headquarters in Nairobi, Kenya.
In case you need your house or office to be cleaned before moving, you can review can review the top cleaning companies in Kenya
Nellions Moving And Relocations Nairobi
Nellions is moving company that offers a full range of removal services to suit everyone from individuals and families to businesses and corporations. It advocates for professional, stress-free local, Interstate moving, and international moving.
Nellions moving company is a team that believes they can build and restore high levels of accountability in Kenya's moving sector. The company offers the following moving services;
Inland house move
International moves
Office move
It has its headquarters in Nairobi while other offices are in Naivasha, Kampala, Uganda. Nellions is a family-friendly company, and its staff seeks to extend the same warmth to everyone lucky to work with them. At Nellions everyone has a voice, and his/her views are considered and respected since they respect every member of their team.
The moving company has some of the best rating and reviews in the market. They enjoy a 4.8 rating on Nellions Google My Business. Positive reviews point to the company's commitment to careful planning and open communication.
Alpha Movers Kenya
Alpha Movers also makes it in the list of the best movers in Kenya. It is known for its positive impacts on clients. The company takes pride in its entirely dedicated team, which is highly professional, clean in all aspects. The team aspires to maintain its high standards, which are the company's main goals. Alpha Movers offers the following services;
Home moving
Office moving
International Relocation
It is headquartered in Nairobi, and its other offices are speeded in all counties in Kenya. It provides transparent price quotes to clients that are open and have no hidden charges.
Taylor Movers Kenya
The last best moving company in our list is Tylor Movers. The company's primary focus is to understand every client's experience from their point of view. This is what makes every member of the company work towards achieving good relationships with clients. It also drives every aspect of how the company conducts its business. The company offers the following services;
Household moving
Office moving
Corporate Staff Relocations
Taylor Movers is a private moving company with its headquarters in Nairobi, and its other branches are in every part of the country.
6.      Packers and movers
Packers and movers Kenya Ltd is one of the top house and office movers. Relocation can be a challenging task which involves planning, execution of actual move to destination settling down. With Packers and Movers Ltd. Your relocation is with the right people.
Packers and movers Kenya Ltd has a global vision to provide a one stop shop for shifting, relocation and storage solutions. The company has evolved from a humble on solid values of honesty, reliability, proficiency and customer satisfactory services.
7.       Ahadi Movers
Ahadi Movers is East Africa's leading full service moving company, based in Nairobi. We specialize in full range of household and commercial moving services, customized to fit your particular moving needs. Ahadi Business Services provides a wide range of tailored removal services: Information Technology moves; Libraries; Hospitals; Laboratories; Warehouse and factory relocations; Schools; Product displays and trade shows; Art exhibitions; Shop fittings and contents.